Conference Site: Kyoto International Conference Center (ICC Kyoto)
Kyoto International Conference Center (ICC Kyoto) is located about 20 min. from Kyoto station by the Karasuma Subway line.

Kyoto is located in the central part of the island Honshu, Japan, and enjoys excellent accessibility as a strategic transportation hub.
From Kansai International Airport, Osaka (Itami) Airport, and Tokyo
The journey by Airport Shuttle Train "Haruka" operated by JR from Kansai International Airport (KIX) to Kyoto Station (single fare 3,570 JPY including additional limited express fee 1,690 JPY) takes about 75 min, or about 120 minutes by Kansai Airport Rapid Service and Special Rapid Service from KIX to Kyoto, transferring at Osaka Station (single fare 1,880 JPY).
Alternatively, it takes about 105 minutes by Limousine bus (single fare 2,550 JPY).
The journey by Limousine bus from Osaka (Itami) Airport (ITM) to Kyoto Station takes about 55 min.
2 hours 15 minutes by Shinkansen (Bullet Train) from Tokyo Station to Kyoto Station
From Kyoto Station
Take the Karasuma Subway line (northbound) from "Kyoto Station 京都 (K11)" to "Kokusaikaikan Station 国際会館 (K01)".
The single journey fare is 290 JPY. Exit the ticket gate and walk through the underground passage to Exit 4-2. This is a 5 min. walk. Alternatively, it takes 30 minutes by taxi from Kyoto station.
Transportation (Kyoto City)
When traveling around the city center, you can choose one of the great tickets for the subway and bus lines.
Kyoto City Subway One-Day Pass (magnetic stripe card)is available for 600 JPY. With this ticket you can utilize all the subway lines for a day. The ticket is for Kyoto Subway lines only. You can buy this ticket at the Kyoto city bus & subway information center, subway station ticket windows (advance and same-day tickets) or at subway station ticket machines (same-day ticket only). Attention: This ticket is not valid for 24 hours. It is only usable on the day it was activated.
Subway, Bus One-Day (or Two-Day) Pass (magnetic stripe cards)are also available for 900 JPY (or 1,700 JPY for a two-day pass). With this ticket you can ride the subway and buses as many times as you want for the duration of one day (valid for all subway lines and Kyoto City Bus routes, and applicable routes only for the Kyoto Bus and Keihan Bus companies). You can buy this ticket at the Kyoto city bus & subway information center and subway station ticket windows. Attention: This ticket is not valid for 24 hours. It is only usable on the day it was activated. The two-day pass is usable until the end of the second day.
More information on the one-day pass is available at: (http://oneday-pass.kyoto/?lang=en)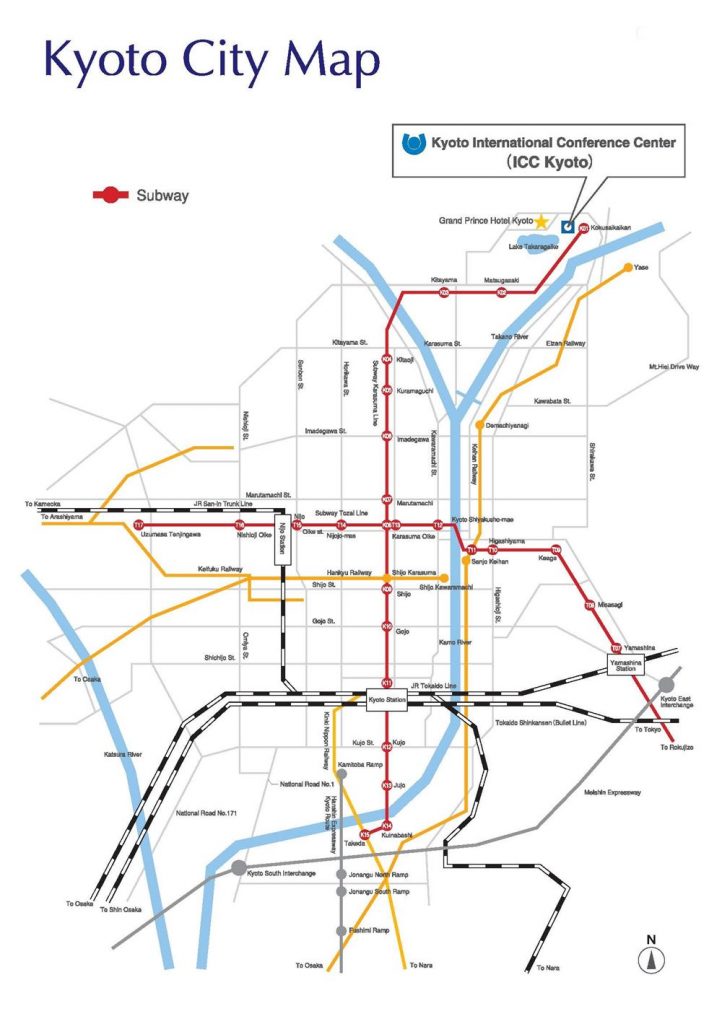 Transportation (Kansai Area)
KANSAI ONE PASS (IC card)will give you access to most of the major public transportation systems in the Kansai region including transportation facilities with ICOCA, PiTaPa, and IC markings. (Available only for foreigners traveling in Japan). With a KANSAI ONE PASS, you can make smooth connections with any major trains in the Kansai region without buying tickets each time. You can buy this ticket at Kansai Airport Station (JR-West) and Kansai Airport Station Ticket Office (Nankai Railway). You can also buy this ticket in Kyoto at Kyoto Station (JR-West), Hankyu Tourist Information Center, Kyoto (Kawaramachi), Sanjo Station (Keihan Railway), the City Bus & Subway Information Desk at Kyoto Station and the City Bus & Subway Information Desk at Kotochika Kyoto (Kyoto Municipal Transportation Bureau).The card costs 3,000 JPY in cash, is rechargeable and has no expiration date.
More information on the KANSAI ONE PASS is available at: (https://kansaionepass.com/en/)