Weather
In July, it is very hot and humid in Kyoto. The highest temperature is over 32 degree Celsius, and the lowest temperature is around 23 degree Celsius. The average monthly precipitation is 220 mm. Light clothes are recommended, and cardigans or other similar kinds may also be handy, since indoor facilities are mostly air-conditioned.
Electricity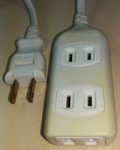 In Japan, 2-flat-pin plugs (USA Type) are used instead of columnar-shaped plugs or 3-pin plugs. The voltage used is 100 volts AC throughout Japan. This is different from most of the world. There are two kinds of frequencies in use; 60 Hz in west area of Japan (including Kyoto) and 50 Hz in east area of Japan.
Time Zone
Kyoto currently observes Japan Standard Time (JST) all year. Japan Standard Time is 9 hours ahead of Greenwich Mean Time (GMT). Daylight Saving Time (DST) is not in use in Japan.
Currency
The local currency is Japanese Yen (JPY). Major currencies, such as the US dollar and EURO, can be exchanged at international airports, major banks and major hotels. Banks are open from 9:00 to 15:00 on Monday to Friday. International credit cards such as American Express, Diners Club, MasterCard, VISA, and JCB are also acceptable at major establishments. Credit card transactions, however, are not always convenient outside cities.
Visa information
All foreign visitors entering Japan must possess a passport, which will remain valid during the period of stay. Participants from countries requiring a visa to enter Japan should obtain one from the nearest Japanese embassy or consulate in good time.
> Ministry of Foreign Affairs
> http://www.mofa.go.jp/j_info/visit/visa/index.html
For more information please visit the site of Japan National Tourism Organization or other sites.